SYSA is a 501(c)(3) non-profit organization dedicated to providing youth sports to the greater Spokane area. Thank you for your continued support. SYSA would not be able to exist without your donated time and dollars.
Direct Donations
SYSA encourages the community to join us in providing youth with quality and affordable sports programs where every kid's a star!  Whether you're an individual or a business you can make a tax-deductible donation to SYSA.  Sending this gift will help us to continue to provide a fun and positive outlet for children of all ages.
What your donation would allow us to purchase:
$15 Soccer Ball
$50 Set of flag football flags
$75 Sports Registration
$100 Set of U5 Soccer Goals
All donation amounts welcome. Thank you for your support.
Donate Online: Click Here
USL Spokane Partnership
We are partnering with Spokane's first professional soccer club, USL Spokane, to raise funds for SYSA. Secure your seat and don't miss your chance to be there when the teams hit the pitch. 100% of each ticket deposit sold minus processing fees, using the unique link below, will benefit SYSA.
Sponsorship
If your business is looking to sponsor SYSA we would be glad to discuss our many sponsorship opportunities. To find out more information about business partnerships please contact receptionist@sysa.com. Jersey sponsor, field signs, tournament sponsor, and/or donation to the Annual Event are sponsorship opportunities.
2023 SYSA SPONSORSHIP MENU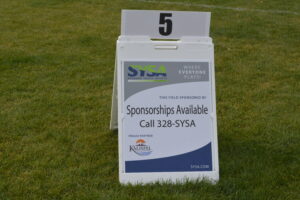 Player Registration Fees
The majority of our program funding comes from sport-specific program player fees. With the help of  fundraising and donations, we are able to keep our program fees affordable.
Financial Assistance Information
SYSA is pleased to offer limited financial assistance for those whose finances may inhibit participation in our leagues. Financial Assistance Application found below or in the SYSA office.  Form must be submitted to the SYSA office at 800 North Hamilton, Suite 201, Spokane, WA 99202 or emailed to receptionist@sysa.com.
* Please submit your application with verification of income as identified on the application. * Financial Assistance is only available for timely registrations to recreational sports leagues. Application need to be turned in one week prior to a deadline or registration may not get completed on time.
Financial Assistance Application 2024
For further questions regarding Financial Assistance, please contact receptionist@sysa.com:   *Formerly referenced as 'Scholarship'
Top Reasons to Support SYSA:
Over 300,000 kids have played SYSA sports.
Opportunities for all youth to play sports, regardless of their ability to pay.
Local non-profit organization -all funds raised from this event help Spokane families.
Sports for everyone – soccer, football, baseball, softball, basketball, cross-country, track and field and rugby.
Kids learn good sportsmanship and team work.
Student athletes have up to 40% higher test scores and 50% less absenteeism than non-athletes.
Over $500,000 in Financial Aid given out.
Student athletes are more likely to graduate high school and attend college.
Andrew Rypien Field.
Over 30,000 alumni volunteer coaches.
AND the #1 reason to support Spokane Youth Sports is so that SYSA can provide sports activities for kids for the next 50 years.