Fall Football Training
>
>
>
Fall Football Training
For Fall in 2020, SYSA is offering Football Trainings for Grades 1-6. These football training sessions will focus on developing the necessary skills to play the game of football while emphasizing fun, teamwork, and sportsmanship. Training sessions will practice proper social distancing and safety guidelines and protocols.  Participants will be placed in groups of five of similar age. A volunteer coach is needed for each group of five.
Volunteer Coaches are usually parents who enjoy the game of football and want the kids to play. Head coaches will receive 50% off their child's registration fees.  Coaches will pick their practice time and location from our list of available options. One volunteer coach is needed per group of five.
Grades 1-2 will have one training session per week for six weeks. Grades 3-6 will have two training sessions per week.
NEW

Fall Football Training 2020 Season

Register by September 3rd – extended to September 7th at midnight

Football Training will start the week of September 14th

Football Training will end the week of October 19th (last day is October 24th)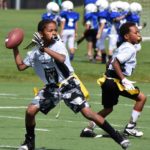 Fees
For priority placement with a specific coach or teammate, register by September 3rd
Grades 1-2  $60 (One Session per Week)
Grades 3-6  $80 (Two Sessions per Week)
Divisions
Grades 1-2 (One Session per Week for Six Weeks)
Grades 3-4 (Two Sessions per Week for Six Weeks)
Grades 5-6 (Two Sessions per Week for Six Weeks)
Training:
Coaches will contact their players and notify you as to when training will be
Player Provides
Football, water bottle, hand sanitizer, Cleats, etc.
Coaches' Meeting
None: Coaches will be sent a Powerpoint with information prior to September 14th
IMPORTANT:
A Volunteer Coach is needed before a team starts – All SYSA coaches are volunteers.
For more information, contact Glen Reser via email: glen@sysa.com
The Volunteer Head Coach will receive 50% off their child's registration
Volunteer Coach background check HERE
Coaches contact registered players after Coach Meeting, please be patient waiting for this contact.
Online Registrations are confirmed by email; if information is omitted notify SYSA via reply email.

 
NEW REGISTRATION PORTAL, LOGIN OR CREATE YOUR NEW ACCOUNT HERE
---