Spring Quick Rip (Flag) Co-ed Rugby
>
>
Spring Quick Rip (Flag) Co-ed Rugby
Spring 2023 Coed Quick Rip (flag) Rugby
Quick Rip (flag) Rugby is a non-contact version of Rugby. Quick Rip is safe, noncontact, easy to play, and a great way to get fit and healthy. The aim is to score a try by grounding the ball behind or on the opponent's goal line and that's worth 5 points. To stop a try from being scored, the defenders must rip the tag from the belt of the ball carrier, forcing them to pass the ball straight away. Four rips in one set of possession for the attacking team and if they haven't scored, they then have to hand the ball over to the defenders.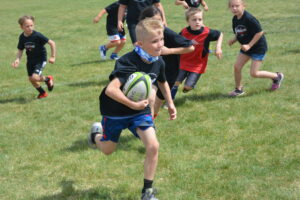 The 5 week season includes 10 sessions. Season dates are from March 20 – April 26, Mondays/Wednesdays (10 sessions) 6:00-7:00 pm at Andrew Rypien Field. The age groups for the Quick Rip program are 1st-2nd grade, 3rd-4th grade, and 5th-6th grade. It is $70 to participate for the season and players receive a t-shirt. The deadline to register for the Quick Rip season is March 9.

If you like the pace, excitement, and skills of rugby but not the big hits, then Quick Rip is the game for you.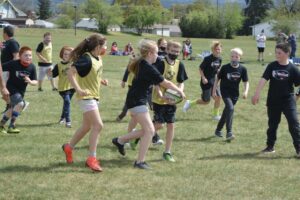 Using fundamental development principles, an athlete-centered approach, and the cultural values special to rugby, I aim to provide a unique vehicle for the program to entice more kids into rugby long term. Purposely, I have used elements of the NZ Rugby youth development model that is heavily Māori inspired.
-Adriaan Ferris  (Athletic Director)
Our mission is to provide sports activities for all youth where everyone plays, develops skills, is taught good sportsmanship, and learns the value of being a team player.
Registration Closed
Season Dates
March 20 – April 26 (no training on April 3 or April 5)
Registration Deadline
Register on or before March 9.
Training Details
$70 1st-6th grade
7th – 12th-grade players please reach out to the local club team, Liberty Warriors.
Training Location & Times
Training with scrimmages
Mondays/Wednesdays (10 sessions)
6:00-7:00 pm
Andrew Rypien Field  (Google Map)
Player Provides
Athletic gear appropriate for the weather, athletic shoes or cleats, and a labeled water bottle. The coaches will bring the rugby balls to practice but if you want one to have at home, size 3 for 1st – 4th grade, size 4 – 5th/6th grade.
DICK's Sporting Goods Weekend – March 24-27
Need athletic shoes or shorts? SYSA families receive 20% off
LINK for coupon weekend (coming soon!)
LINK for additional coupons
IMPORTANT:
ASSISTANT COACH REGISTRATION – How to register (3 steps)
Coach Registration: Log into your Blue Sombrero account HERE.
Click on the volunteer tab, view divisions, and complete registration.
Background Check: All coaches must complete an SYSA background check annually. If you need one, SYSA will contact you.
Abuse Prevention Video: All coaches are required to watch an Abuse Prevention Video. SYSA will contact you with a link for the video. Once the video is complete, the coach can be assigned to a team.
ALERT- for better communications please add the following: support@stacksports.com, clubnews@bluesombrero.com, and receptionist@sysa.com as contacts in your phone/email.  There have been several issues with coaches and parents not receiving team information due to emails going to spam, junk, and trash.
Blue Sombrero Sports Connect – LOGIN OR CREATE YOUR NEW ACCOUNT HERE