Free Quick Rip (Flag) Rugby Introduction Day
>
>
Free Quick Rip (Flag) Rugby Introduction Day
FREE Quick Rip (flag) Rugby
Introduction Day – May 1
The professional Rugby team, Utah Warriors, and club rugby team, Liberty Warriors, partner with SYSA to offer a free rugby training clinic before the Quick Rip Rugby Season in the Spring.
Quick Rip (flag) Rugby is a non-contact version of Rugby. Quick Rip is safe, non contact, easy to play, and a great way to get fit and healthy. The aim is to score a try by grounding the ball behind or on the opponent's goal line and that's worth 5 points. To stop a try being scored, the defenders must rip the tag from the belt of the ball carrier, forcing them to pass the ball straight away. Four rips in one set of possession for the attacking team and if they haven't scored, they then have to hand the ball over to the defenders.
If you're not sure if rugby is the right sport for your young player, The Utah Warriors are partnering with the Liberty Warriors and SYSA to offer a free introductory Rugby Clinic on May 1. Learn the basics of running, catching, ripping the tags with professional rugby players and coaches. The clinic is for kids aged 6 to 13 who are new to rugby. The goal of the clinic is to introduce kids to the sport of rugby, teach them some basic skills, and get them excited to play the Quick Rip flag rugby season.

Our mission is to provide sport activities for all youth where everyone plays, develops skills, is taught good sportsmanship, and learns the value of being a team player.
Thank you to everyone that participated!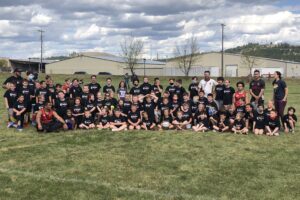 Registration Deadline
Register on or before April 22nd
No Fees
FREE (must register for the event)
Grades 1 – 6
Location/Time
Andrew Rypien Field  (Google Map)
Time: 1:00-3:00
Player Provides
Athletic gear appropriate for the weather, athletic shoes or cleats, labeled water bottle, labeled hand sanitizer and mask.
ALERT- for better communications please add the following: support@stacksports.com, clubnews@bluesombrero.com and receptionist@sysa.com as contacts in your phone/email.  There have been several issues with coaches and parents not receiving team information due to emails going to spam, junk and trash.
Blue Sombrero Sports Connect – LOGIN OR CREATE YOUR NEW ACCOUNT HERE