Spring Track & Field
SYSA Track & Field is a fun, recreational spring program for youth, grades 1 through 6. The Track & Field season begins in April.
Five Friday & Saturday meets make up the Track & Field season. Each meet is at a different area high school and consists of 3 events; events rotate every meet to give the kids experience competing in various events.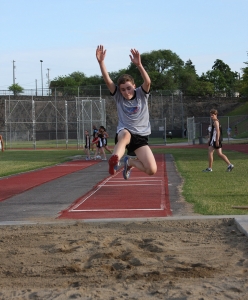 Events
1st & 2nd Grade:
4x100m Relay
100m
200m
400m
Javelin
Long Jump
3rd & 4th Grade:
4x100m Relay
4x400m Relay
100m
200m
400m
800m
Javelin
Long Jump
5th & 6th Grade:
4x100m Relay
4x400m Relay
100m
200m
400m
800m
1600m
Javelin
Long Jump
Shot Put
Season : Spring 2017
Registration: Currently Closed 
We have limited spots in some age groups. Please email Caity@sysa.com with the following:
Child Name:
Child Grade:
Closest High School:
Willing to travel to other areas of town to participate?
Meets: April 14th–May 13th
Registration before March 9th  [first come, first serve]
Grades 1-2  $80
Grades 3-4  $80
Grades 5-6  $90
Registration after March 9th
Grades 1-2  $100
Grades 3-4  $100
Grades 5-6  $110
Teams
Teams are put together on a first come, first serve basis. Participants registered on or before the registration deadline will receive priority placement on teams, however we can not guarantee there will be room on specific teams.  Participants registered after this deadline will only be placed on teams if space is available.
Uniform Provided
T-Shirt Provided
Coaches Meeting
March 27th @ 5:30pm
SYSA Bingo & Event Center [1221 N Howard]
Practices
Begin after the coaches meeting
Days/Times determined by the coach–SYSA will not know when practices are until the coaches meeting.
Meets
Grades 1-2: Friday Nights [6:00 & 6:45]
Grades 3-4:  Saturday Mornings [tentatively 11:00]
Grades 5-6: Saturday Mornings [tentatively 9:00 & 10:00]
First Meet
Friday, April 14th [1st/2nd grade]
Saturday, April 15th [3rd – 6th grade]
All League Meet
May 12th & May 13th
 IMPORTANT:
A Volunteer Coach is needed before a team starts – All SYSA coaches are volunteers.
For more information, contact Caity via email: caity@sysa.com
Coaches contact registered players after the Coach meeting, please be patient waiting for this contact.
Online Registrations are confirmed by email; if information is omitted, please notify SYSA via reply email.
Register Player-CLOSED Register to Coach-OPEN
Or Print this Form and turn it into the SYSA Office
Cancellation and Refund Policy    Registration Waiver   Concussion Information
Weather Policy  Code of Conduct   Privacy, Third Party, and Information Security Policy