Sounders Junior Program U9/U10
>
>
>
Sounders Junior Program U9/U10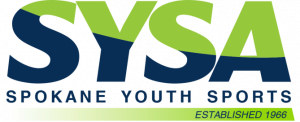 Come be part of the Spokane Sounders – official youth club affiliate of Seattle Sounders FC! Don't miss the chance to have your son or daughter be trained by our experienced coaching staff!  Within the U9/U10 (2011s-2010s) age group, our goal is to produce better soccer players so they can enjoy playing the game even more.  Winning is secondary. We want to build soccer players for life—fans of the game for life.  Providing an opportunity to learn in a friendly, educated, and enjoyable environment is most important.  We want kids to smile, grow, develop their skills, expand their love of the game and have fun!
Season
Details
Players born in 2010 or 2011 are encouraged to register today!
U10:  2010
U9:  2011
Play-ups must be approved by the Coaching Staff
Fees – Registration is Closed. Send Peggy@spokanesc.org for space availability.
U9, U10: $195 Fall and Spring rate (does not include uniforms or tournaments) register by August 19th
Identification days will be held in the 3 neighborhood areas the week of May 21.
SOUTH HILL: May 20 & 21 @ South Complex #3

 Boys 5:00 – 6:15 pm
 Girls 6:30-7:45 pm
VALLEY: May 22 & 23  @ Plantes Ferry #8

 Boys 5:00-6:15 pm
 Girls 6:30-7:45 pm

NORTH: May 21 & 22 @ Dwight Merkel Complex (DMC) #3 FULL

 Boys 5:00-6:15 pm
 Girls 6:30-7:45 pm
There are no tryouts for this program!  All players are welcome!  We will provide a fun, positive experience for these young players, setting the tone at these identification days.  Our goal is simple:  we want players to have fun playing soccer so our coaches can see how they fit with other players.  Our focus is on fun and the joy of the game!
Game Days/Locations
Weekends/Spokane Shadow Soccer Complex (7726 W Sunset Highway, Spokane, WA 99224)
Practices
Will be determined by geographical location
More Detailed Information
Please visit HERE for more details. Registration is below.
---