Published On: 04-03-2015
---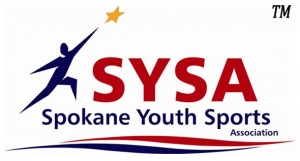 Spokane Youth Sports Association and Spokane Soccer Club Shadow are excited to announce a collaboration for Youth Soccer in Spokane.
Bringing together Spokane's most successful, longest tenured recreational organization serving 3700 soccer players each year, and Spokane's most successful, longest tenured competitive club serving 1000 players each year in the Inland Northwest and the Greater Spokane Area.
Spokane, WA – April 2, 2015 – Committing to making soccer opportunities better for recreational, select and premier youth players in the greater Spokane area, Spokane Soccer Club (SSC) Shadow and Spokane Youth Sports Association (SYSA) have announced they will work together to provide a full service soccer program available to all players in the community. This collaboration will bring the community a clear option for every family to begin playing soccer at the youngest ages and continue through their high school years. Players will be exposed to a variety of coaches along their development pathway and will experience unique player development-centered training opportunities. Coaching education, curriculum and extra training opportunities for recreational players will provide consistent coaching instruction and oversight for locally-competing select level players, and secure greater competition and success in state-wide Regional Club League play at the premier level. Players can begin at U5 SYSA/Shadow soccer and choose to end playing U18 recreational soccer or maybe even play for the Semi-Pro Shadow team.
 "What an opportunity for all players at every level in Spokane. Players can choose their pathway, their soccer playing level and be involved in the two leading organizations for Spokane soccer. Working together only provides more opportunity for our community of youth soccer players," said SSC Shadow Technical Director Abbas Faridnia.
"SYSA is excited to work with SCC Shadow to provide soccer for kids of all ages. The resources that SCC Shadow brings to the recreational players, coaches and leagues are exceptional. Most importantly, this collaboration will make soccer fun for everyone!" said SYSA Executive Director Philip Helean.
The mission of Spokane Youth Sports Association is to provide sports activities for all youth where everyone plays, develops skills, is taught good sportsmanship and learns the value of being a team player.
sysa.com
Spokane Soccer Club Shadow serves Spokane's premier and select youth soccer players committed to advancing their skills and love of soccer by striving to achieve the highest standards of training, instruction and competition in an atmosphere of teamwork, respect, and professionalism.  Shadow is the only Greater Spokane member of the Regional Club League (RCL) which consists of the top 18 clubs in Washington Youth Soccer (www.washingtonyouthsoccer.org). 
Visit www.spokanesc.org for information.