SYSA Flag Football and NEW NFL Flag Football is a fun recreational fall program for youth in grades 1-8. The season is designed to help youth learn the basics of Flag Football where each players plays at least half of each game.
Volunteer Coaches are usually parents who enjoy the game of football and want the kids to play. Most teams will practice in the evenings, twice per week beginning 1-2 weeks before the first game.  All 7 games are scheduled on Saturdays at Andrew Rypien Field.
The season culminates with the Candy Bowl, a jamboree format optional tournament.  Registration for the tournament is by Team and has a separate team fee.  Coaches will receive more details about the Candy Bowl as the season progresses.
2018 Season
September 8 – October 20; Saturday Games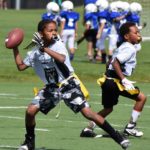 at Andrew Rypien Field
Fees
Registration on or before August 9
Flag Football (grades 1-4)  $115
NFL Flag Football (grades 5 – 12)  $140
Registration after August 9
Flag Football (grades 1-4)   $135
NFL Flag Football (grades 5-12)  $160
Divisions
Flag Football – Grades 1-2, 3-4
NFL Flag Football – Grades 5-6, 7-8
Practices
Coaches will contact their players after the Coach's meeting on August 23rd and notify you as to when practices begin.
Uniform Provided
Flag Football – Jersey and Mouth Guard
NFL Flag Football – Licensed NFL  Flag Jersey and Mouth Guard
Player Provides
Cleats, Water, etc.
Coaches' Meeting
Thursday, August 23rd at 6:00pm.  SYSA Bingo Hall, 1221 N Howard
Picture Day
September 15
Schedules Available
August 31st
Tournament
Candy Bowl – October 26th-28th –$130 additional TEAM fee
Majority of Games will be played on Saturday, October 27th. Championship Games could be played on Sunday, October 28th
IMPORTANT:
A Volunteer Coach is needed before a team starts – All SYSA coaches are volunteers.
For more information, contact Glen Reser via email: glen@sysa.com
Coaches contact registered players after Coach Meeting, please be patient waiting for this contact.
Online Registrations are confirmed by email; if information is omitted notify SYSA via reply email.
Online Registration is now

CLOSED

.