Fall 2015 Soccer
(and Spring 2016)
SYSA hosts the largest recreational soccer league in Eastern Washington.  The season consists of 7 games in the fall and 5 games in the spring.  SYSA Rec teams also have the opportunity to play in the Wendle Tournament held in mid-May (an additional 3+ games) for an additional team fee (this is still being determined).   SYSA offers small sided games for youth that are adjusted for each age group.  This in combination with our effort to ensure each player receives at least 50% playing time means that every kid gets more touches on the ball.  Our mission is for all youth to play, develops skills, learn good sportsmanship, and understand the value of being a team player.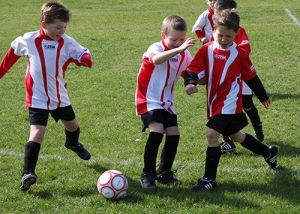 Fall Session
September 12th – October 24th  (7 games)
Spring Session 
(included with registration) April 16th – May 14th  (5 games)
Registration Deadline
For priority placement with a specific coach or neighborhood, register by July 23rd. Registrations are accepted afterward as there is space.
Details
U6-U7: 3v3  no goalie U8-U9: 5v5  includes goalie U10: 6v6  includes goalie U11/12: 9v9  includes goalie U13/14: 9v9 or 7v7 includes goalie
Fees on or before July 23 – will receive priority placement on teams.
U6, U7, U8: $120
U9, U10: $125
U11-12, U13-U14: $130
Registration after July 23 – will be placed on teams as space is available.

U6, U7, U8: $140
U9, U10: $145
U11-12, U13-U14: $150
Game Days/Locations
Saturdays at MSC, Farwell, DMC, South Complex, ARF, Riverside (Click for outdoor Field Locations)
Uniform includes
Jersey, shorts, socks
Player provides
Shinguards (required), athletic shoes or cleats, H20, & ball (U6-U8 size 3; U9-U12 size 4; U13+ size 5)
Picture Day 
Andrew Rypien September 19
Farwell and Dwight Merkel September 26
South Complex October 3
Coaches Meeting
U9-U14 Coaches -August 27 6-7pm at the SYSA Bingo Hall
U6-U8 Coaches – August 27 7:30-8:30pm at the SYSA Bingo Hall
Practices
Practices can begin after the Coaches Meeting at a field and time chosen by the coach at the Coaches Meeting.  (Click for outdoor Field Locations)
Schedules

Posted by September 4, 2015
Optional Tournaments
Fall 3v3 Jam-BOO-Ree – October 30-November 1, 2015 – Additional fee required
Spring Wendle Tournament – May 19-22 2016 – Additional fee required
REGISTRATION IS OPEN FOR COACHES (below) ~ PLAYER Registration is Closed
Age Chart Here (please review to make sure you're looking in the correct age group): If your child fits within the following age and area (by address or choice) please fill out the information fields below the list.
Room Available, although filling up, first come first serve:
U8 Boys Deer Park/Riverside
U8 Girls Cheney and South Hill
U9 Girls Mead
U10 Boys Deer Park/Riverside
U11/12 Boys 9 Mile, Mead and North
U13/14 Boys Deer Park/Riverside and South Hill.
PLEASE COPY & PASTE the following when inquiring about space on teams based on if you qualify for the list provided at christina@sysa.com:
Child's Name?
Gender?
Birthdate?
Nearest High School?
Areas you are willing to go to allow your child to participate?
  Register Player-CLOSED Register to Coach
Or Print this Form and turn it into the SYSA Office
*Participants registered on or before the registration deadline will receive priority placement on teams. Participants registered after this deadline will be placed on teams as space is available.
Cancellation and Refund Policy    Registration Waiver   Concussion Information
Weather Policy  Code of Conduct   Privacy, Third Party, and Information Security Policy