Fall Season – Cross Country
SYSA Cross Country is a fun, recreational fall program for all youth, grades 1st-6th. The Cross Country season begins in September, with practices usually beginning the week school starts.
There are 5 Saturday meets that make up the Cross Country season. The meets consist of a mile run and are located at different Spokane area parks. Our volunteer coaches are usually parents who enjoy running and want to share their passion with area youth. The Cross Country teams practice evenings, twice a week prior to and through the season.
If you are interested in coaching, please contact Caity Harper at Caity@sysa.com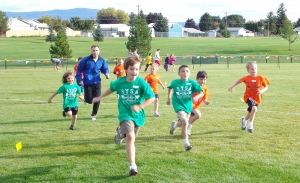 Registration
Currently Closed
Register by August 4th
Divisions & Fees 2016
One mile run each division
Primary – Grades 1-2  $75 [after 8/4: $95]
Intermediate – Grades 3-4 $75 [after 8/4: $95]
Advanced – Grades 5-6  $75 [after 8/4: $95]
Uniform provided
T-Shirt included
Player provides
Shorts, water bottle, shoes
*No running spikes*
Meet Days [Please Note: Times are tentative and may change based on number of participants in each age group. An official schedule will be released in late August/early September]
Saturdays
8:00am–1st & 2nd Girls
8:15am–1st & 2nd Boys
8:30am–3rd & 4th Boys & Girls
8:45am–5th & 6th Girls
9:00am–5th & 6th Boys
Meet Dates 
Saturday, September 10th
Saturday, September 17th
Saturday, September 24th
Saturday, October 1st
Saturday, October 15th–SYSA All-League Meet
Practice Locations
Mead: Holmberg Park
North: Audubon Park
South: Manito Park, Comstock Park
Valley: Plantes Ferry Park
Coaches Meeting
Please contact caity@sysa.com for information regarding coaching.
Practices
Begin the week of August 29th
Twice a week, 1 hour each practice
After registering
p

lease wait

 for your coach to contact you.

PLAYER Registration for 2016 is NOW OPEN~Coach Registration OPEN

Register Player Closed Register to Coach

Or Print this Form and turn it into the SYSA Office

Cancellation and Refund Policy    Registration Waiver   Concussion Information
Weather Policy  Code of Conduct   Privacy, Third Party, and Information Security Policy